Solar powered security cameras, with self-renewal and clean energy, are gaining popularity as the public becomes more environmentally conscious. The initial investment in buying one of the best quality solar security cameras can be huge, but as the life of the solar panels increases and more solar security cameras are installed, the future benefits will definitely be worth it. In your process of choosing the best solar security camera, here are some key factors that you absolutely cannot miss.
1. Solar panel capacity of solar security camera
The amount of electricity that a solar panel in a solar security camera can generate is determined by a variety of factors, such as the average amount of sunlight, weather conditions, the tilt angle of the panels, and more.
The solar panels that come with the security camera should generate enough power to power the camera for 8 hours a day. At the same time, it should also be able to have a fully charged battery.
To ensure the efficiency of the solar panel is at its best, make sure that nothing is blocking the direct sunlight from the solar panel. If you are in the northern hemisphere, orient the PV panels due south; if you are in the southern hemisphere, orient the PV panels due north for maximum natural resources.
Weather conditions like snow and dark clouds can reduce the efficiency of a solar panel, so giving it the best possible angle will help.
Also keep your solar security camera's panel clear of possible obstructions, such as shadows from nearby trees or shrubs.
In addition, it can improve the performance of the security camera by regularly wiping the surface of the solar panel with a damp paper towel or cloth to remove dust or debris.
2. How much battery does your solar security camera need
These rechargeable batteries can power your solar-powered security camera in low sunlight.
Solar security cameras should be equipped with rechargeable batteries to power the camera when the sun is low. The capacity of the battery should be at least 10 times the maximum output capacity of the solar panel. Otherwise, the battery may be damaged by overcharging.
The average charging time is about 6 to 8 hours. This stored power should last from 1 week to 3+ months without additional charging. Of course, it is possible that only the camera is actively recording when the motion detector is triggered or when the user is connected to the camera.
The storage capacity of a battery is measured in milliamp hours or milliamp hours. The more features a camera has that require power (such as two-way audio, Wi-Fi connectivity, and night vision), the more battery capacity it will require.
A shortcut to choosing a battery for your solar security camera is to buy a solar IP camera with a rechargeable battery.
If you want to add a battery backup to your solar security camera, you can ask the seller of the solar camera directly for recommended models.
3. Where will the solar security camera save the video
If you prefer to record motion-activated video locally without charging a subscription fee, a solar powered security camera with an SD card might be a good option.
You can also easily playback and manage video from wireless solar surveillance cameras via the phone's motion sensor stored on the memory card.
If you prefer to access your data anywhere on your mobile device with an internet connection then opt for a cloud service and you can access your data anywhere on your mobile device with an internet connection. The footage of the wireless solar security camera with motion sensor can be Save on your phone's SD card.
4. Data Transmission Of The Solar Security Camera
WiFi solar security cameras with motion sensors can send instant alerts when the network is connected. You can also watch solar wireless home security cameras live through the APP on your smartphone.
If there is no network in the monitored place, don't worry!
Solar security camera with SD card (slot) can still record motion sensing events even without WiFi/Internet.
But if you want to watch your wireless solar security camera live or receive instant alerts, an internet connection is a must.
Thanks to the introduction of solar-powered cellular security cameras, they can operate on 3g/4G cellular data and work where there is no hardwired internet or WiFi, like 4g solar-powered security cameras.
Any feature of a wireless solar security camera you can find in a solar cellular security camera.
5. Image Resolution of Solar Security Camera Lenses
Resolution refers to the sharpness of an image. If the lenses aren't sharp enough that you can't see individual faces, these lenses are useless.
Preferably between 720p to 1080p resolution, although there are higher resolution cameras. 720P resolution is common in low-end and budget models. 1080P resolution is standard for most solar cells.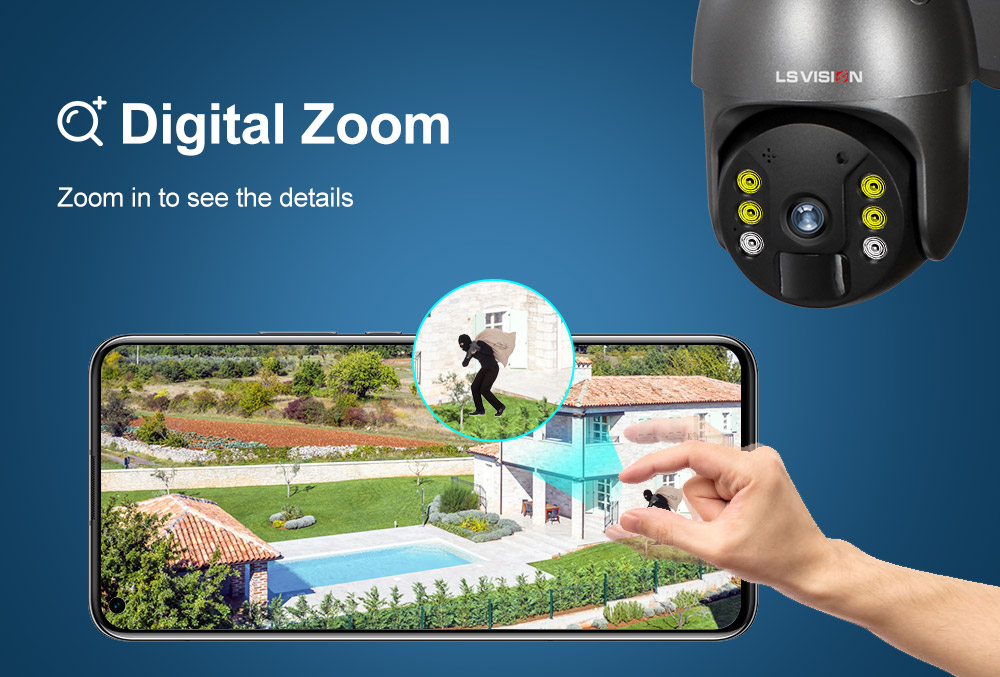 6. Cost of Wireless Solar Security Cameras
The initial investment in buying the best quality solar CCTV security cameras can be large, but as the life of the solar panels increases and more solar security cameras are installed, the future benefits will definitely outweigh the costs.
So instead of opting for a fake solar security camera or a cheap solar IP camera with a low resolution, choose a high-quality solar security camera from a trusted brand.
Quick tip: When you're looking for a wireless solar-powered outdoor security camera, make sure it's at least Full HD (1080p) for recognizable detail.
7. Design and waterproof performance of solar security camera
According to the shape and design, it is divided into two categories: bullet type and dome type.
a. Bullet-type surveillance cameras
Bullet-type, they have a fixed field of view with a wide field of view that can be adjusted manually or via a remote control. Bullet-shaped security cameras are often used at entrances. They usually include motion sensing and night vision.
b. Dome security camera
Their field of view is usually smaller. Their swivel angle is close to 360 degrees, which makes them a great choice in commercial and industrial settings. They are also sometimes used in residential environments, although dome cameras designed for the home are generally not as robust as those designed for commercial and industrial applications.
The waterproof rating can tell you how well your camera will work outdoors. It is represented as IPXX. IP stands for Ingress Protection. The first x represents resistance to debris, ranging from larger solid objects, like leaves, to tiny solid objects, like dust.
The second x represents the resistance to water, which can be zero resistance, or a prolonged immersion in several feet of water with no effect. A rating of 5 will ensure the camera doesn't shut down in heavy rain.
8. Solar security camera compatibility with existing infrastructure
Your existing Wi-Fi, smart home or 4G service provider should be compatible with solar powered security cameras. While most products will work with any type of Wi-Fi, the ability to connect directly via a built-in 3g or 4g network and the ability to integrate with your smart home needs to be checked for security cameras to work properly.
9. Communicate via Solar Security Cameras
Some models allow you to have two-way intercom with the person on the other end via the built-in microphone and on-camera speaker. For this feature to work, find out the optimal working distance and height before purchasing or installing.
10. Motion Detection and Night Vision Capabilities Of Solar Security Cameras
PIR motion sensing is an advanced feature that uses computer algorithms to differentiate between human and non-human images. If the target is not a person, the motion detection system will not sound the alarm. Night vision capability is very useful if you want solar powered security cameras to work at night or in dark places.
Summarize
Running a few surveillance cameras 24/7,365 days a year can add a lot to utility bills. Using solar energy can save a lot of energy. This is why solar-powered security cameras are becoming more and more popular.
Besides reducing utility bills, they have a long list of other benefits and useful features over wired and battery-powered security cameras. In 2021, the performance of the solar version has already caught up with the conventional power version.