The difference from such occasions as factories and warehouses is that installing surveillance cameras in orchards will be a bit more troublesome. Not only is the installation environment more complicated, but there is also a very important problem that basically there is no network in the orchard, and it needs to solve network and wiring problems at the same time. In fact, in many cases, the main purpose of customers installing surveillance cameras in orchards is to connect with mobile phones for remote monitoring.
So what are the surveillance cameras suitable for the orchard? The clear surveillance camera at night is a wireless surveillance camera that is especially suitable for installation in the orchard. Its main advantage is that it does not require a wireless network and only needs to insert a SIM card to connect to the mobile phone. , Because it is connected to the Internet through a traffic card, it will definitely generate a certain amount of traffic during its work. Generally, 3-5G of traffic per month is sufficient.
Orchard's remote surveillance camera with a built-in memory card slot. If we need to store and play back the previous video, we need to insert a memory card. The size of the memory card to be used depends on the actual needs of each customer. If we want to save the video If the time is longer, then a larger capacity memory card can be used. For example, if some customers want to save videos for about one month, then they can choose a 128G memory card and adopt the loop recording mode. When the video is full, it will be deleted automatically. Video files.
The advantages of choosing 3g 4g cctv camera for the surveillance of the orchard:
1. Save labor and cost, remote wireless monitoring, with battery and 4g camera solar panel and wireless signal transmission channel, 24h uninterrupted monitoring without wiring, low overall cost, and fruit growers only need to check through the terminal, do not need to go to the scene ;
2. There are various shapes, the most commonly used is the appearance of the dome camera, which can be deployed and controlled at any time, and can be completed by a single person without disassembly, and only needs to replace the battery regularly to ensure the continuous operation of the equipment;
3. Built-in high-definition infrared function, strong night vision and fog penetration ability, can also shoot clearly in rainy and snowy weather;
4. Supports special functions such as humanoid detection, hazard alarm, etc., and truly realizes unmanned monitoring that integrates "monitoring + early warning + evidence collection";
5. The back-end system has strong compatibility, which can basically realize seamless connection with the mainstream monitoring equipment currently on the market, and support the addition or reduction of monitoring equipment.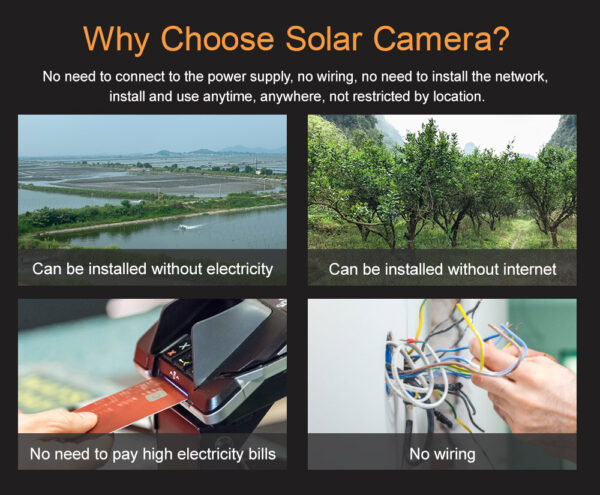 How to choose 4g solar camera for the surveillance of the orchard?
For orchards, farms, fish ponds and other scenarios where the monitoring range is wide and the power supply is complicated, we can consider this:
Stable power supply, monitoring range within 100 meters
In this case, we can consider a monitoring kit powered by POE. In addition, you can also consider extending the Wifi coverage by means of wireless bridge relay, so that we can still choose wireless WIFI surveillance cameras at a long distance, reducing the trouble of wiring.
Stable power supply, monitoring range is 100 meters away
In this case, we can choose a surveillance camera that supports data card/4G network transmission. This way we don't need to consider the factors of network transmission and wiring, but the use of SIM cards or mobile phone cards needs to consider the issue of continuous cost expenditure.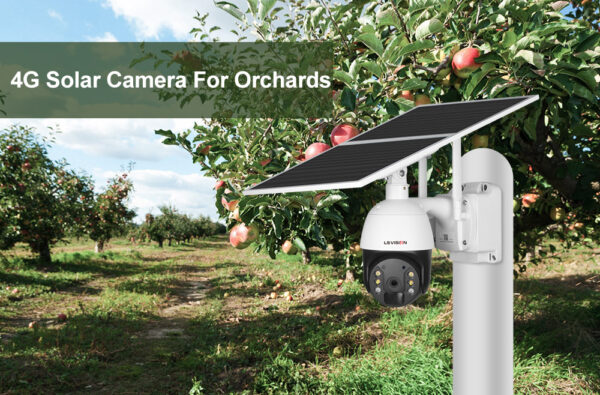 In terms of brand and stability, two 4g ip camera that support 4G transmission can be considered:
Style 1:
*SIM card networking, 4G full Netcom, can monitor outdoor without internet.
*2MP intelligent full-color night vision.
*Active defense, sound and light warning. When a humanoid intrusion is detected, it will give an audible and visual alarm and send it to the APP for notification as soon as possible.
*Supports 15-meter remote pickup and two-way voice calls.
*IP67 high-grade waterproof and dustproof, not afraid of wind and rain.
Style 2:
*4G full Netcom, can monitor without network.
*Two-way pan/tilt rotation, 360° no dead angle monitoring.
*Intelligent motion detection, human figure detection, automatic follow-up, sound and light alarm.
*IP66 waterproof, reliable quality and super cost-effective.
Difficulty in power supply, relatively long distance
In this case, you can only choose surveillance cameras that support solar power, which are usually used in scenes such as wild, mountainous, and fish ponds, and because they are in remote areas, you also need to consider pole installation, and the cost is relatively high. The following two types of solar cctv camera that support solar power from well-known brands can be considered:
1.-TP-LINK solar security camera battery powered kit
*SIM card networking, 4G full Netcom, can monitor outdoor without internet.
* High-speed PTZ, 360° omnidirectional monitoring, and support 3D positioning, presets, one-key cruise, one-key watch and other PTZ functions, which can more targeted monitoring of key locations.
* 20x optical zoom, starlight night vision, night vision distance up to 100 meters.
*Intelligent motion detection, cross-border detection, automatic recording function.
*60W40AH solar battery can support long-term continuous recording.
2.LSVISION solar cctv camera 4g 20W 31700mAH [Endurance 4 days]
*4G full Netcom, can be monitored outdoors without internet.
*IP66 waterproof and dustproof, designed to withstand 8 gales.
*Digital zoom, full-color night vision function.
*AI human vehicle detection, intelligent sound and light alarm.
*20W 31700mAh solar battery, can last up to 4 days.  
To sum up, the choice of 4g cctv camera for outdoor is faced with a more complex environment and relatively harsh selection factors. When choosing, we try to communicate with manufacturers or merchants as much as possible to find a solution that is more suitable for us.