The solar 3G 4G camera surveillance system is a major breakthrough in the camera industry. It breaks the limitation that traditional cameras need a network and main power for data transmission. Using mobile phone mobile networks to transmit video data and solar energy to supply electricity, solar 3G 4G camera solves the monitoring problem in areas without grid and electricity.
The working principle of 3G/4G cameras is similar to that of mobile phones: the video data is sent to the server through the base station through the built-in 4G module. Therefore, in order to transmit data, the 3G/4G camera needs to be inserted into the SIM card like the mobile phone.
The working principle of the solar power generation system is to generate electricity through the solar panel and store it in the battery, so as to ensure that the camera can continue to work at night without light and on cloudy and rainy days.
Remote (and geographically challenging) areas may not have electricity and wireless networks, but they still need the same security. In fact, these locations are more difficult to secure because they don't have that access—thieves know it. In order to reduce your losses, it is recommended that you first understand the solar camera to see if it is suitable to escort your safety.
Benefits of Off Grid Solar Powered Security Cameras
1. Solar security cameras allow flexible positions
Solar security cameras do not require cables and grids to work. Therefore, it can be used in various monitoring applications, such as remote sites or geographically challenging environments.
Typical locations where you can install solar surveillance cameras include, but are not limited to, your vacation home, shed, construction site, vineyard, farm, barn, boat, warehouse, RV, and more.
2. Easy to install and move
Solar powered wireless security cameras can be quickly installed anywhere you want, and since you don't need to run any messy cables or drill holes, it's a very cost-effective security option.
Even better, you can easily move solar security cameras as projects progress or are complete, such as construction sites or new hoses under construction, and bring the solar IP cameras to new locations.
Solar security cameras are highly portable and flexible, requiring no wires, no wiring, and no drilling. You can place it indoors and outdoors wherever you like, such as your front door, backyard, nursery, temporary work sites, and more.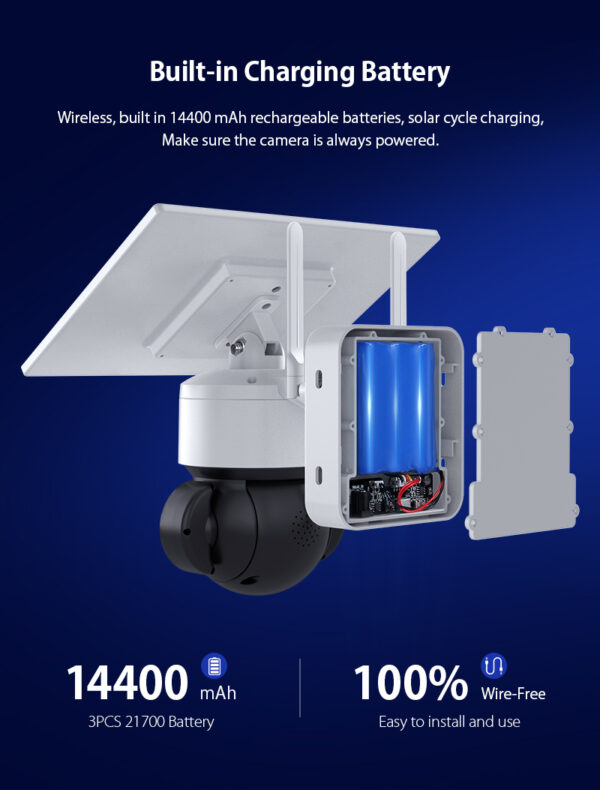 3. Environmentally friendly
Solar-powered security cameras are powered by renewable sunlight and do not damage the environment or cause any pollution like waste and disposable batteries.
What's more, creating the infrastructure to support traditional surveillance systems can be disruptive. Solar-powered surveillance cameras require no infrastructure and can protect areas such as wetlands. This is an eco-smart solution as it requires no electricity and runs on renewable energy. It also requires minimal infrastructure requirements so the surrounding natural environment can remain the same.
4. Solar powered cameras provide day and night surveillance
Solar-powered wireless security IP cameras can be powered by rechargeable batteries at night when there is no sunlight.
Some solar security cameras are equipped with starlight sensors that can provide brilliant color night vision – a huge leap compared to other security cameras.
5. Easy to expand
Solar security cameras are also a flexible and scalable solution if you want to add 2 or 3 cameras later. With Security Camera Viewer, you can also watch live views of multiple solar IP cameras simultaneously on your smartphone. If you need to add or remove security cameras, it's easy to do so with a solar system. Whether you're powering an entire site or a single room, solar power can help you do just that. You can group cameras and combine real-time information into one secure login where you can access all footage.
6. Solar security cameras have a long service life
Most solar panel manufacturers offer more than 10 years warranty, which means that solar panels used in security cameras can still produce no less than 80% of their power after 10 years, with little or no maintenance.
7. High privacy and security
Compared with the traditional camera transmitted through the Internet, the signal transmission through the mobile phone network is more secure, and it is more difficult for hackers to break into the camera system
8. No power supply required
No electricity is required, and the system can include battery backup to ensure that when there is not enough sunlight for a period of time, you will always have power, even if there is a power outage in your area. The rechargeable battery retains enough power to keep the camera running, even in foggy weather. Most solar panels are sturdy enough to catch small rays on low-light days. Don't worry about power outages!
9. Cloud Control
You can install solar safety systems anywhere – they work efficiently wherever you install them.
If you live in a remote area with electrical connectivity issues, these systems will work perfectly. When a camera needs to be adjusted, technicians don't need to be on-site because they can make adjustments from a remote location via the cloud. Today, most of these cameras are equipped with Wi-Fi, which makes them easy to monitor and operate from any remote location. If you're on vacation, you can adjust camera settings and monitor your home with confidence.
10. Intelligent Analysis
The system can send notifications to employees in various situations, such as the detection of an intruder or unusual activity.
11. Waterproof and moisture-proof
Since the purpose of installing solar security cameras is to consistently perform and overcome any situation caused by nature outdoors, LS Vision's solar cameras feature ip66 weather protection against snow, rain, dust, and direct sunlight to protect your property all year round.
Home solar systems have many advantages. The main benefit is reduced carbon emissions and lower bills. After installing solar security cameras, you can move on to installing solar security lights, solar security sirens, and other solar systems. This way, not only will your bills be affordable, but you'll also be doing your part in reducing global warming.